"I'm basically a cartoonist," describes Shawn Kerri (born Shawn Maureen Fitzgerald) herself. It is her passion for cartoons, "the most fun artform," through which she made herself a name in early 1980s hardcore in Los Angeles. Regarding the bigger picture, Kerri alongside her contemporaries like Raymond Pettibon, Pushead, Mad Marc Rude, Kevin Crowley or Bridget Burpee, participated in creating the building blocks of the visual identity of hardcore.
Kerri's day job was drawing cartoons and writing scenarios for various outlets. Her longest and most regular employment was with CARtoons (1975-1991). But she also drew cartoons for Commies From Mars (1979-1987), Cocaine (1981-1982) as well as Cracked (1985-1988) and did "gags of pornographic artwork" for Hustler, Chic, Velvet and Gentlemen's Companion under the pen name Dee Lawdid [probably a play on the narcotic pain reliever Dilaudid that she got high on among other drugs] (1978-1982). She also wrote the scenarios for Donald Duck comics from 1978 to 1982 for the European market that were sold in France, Italy or the Netherlands, did illustrate a few commercial products like game-cards for museums (e.g. the Good Health Fun Pack, 1983) and did commissioned art work.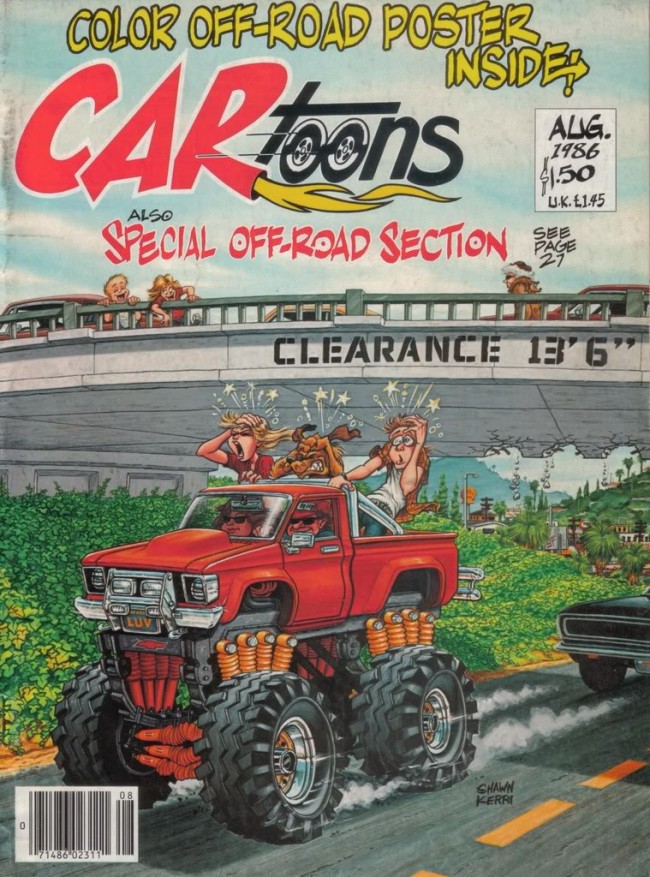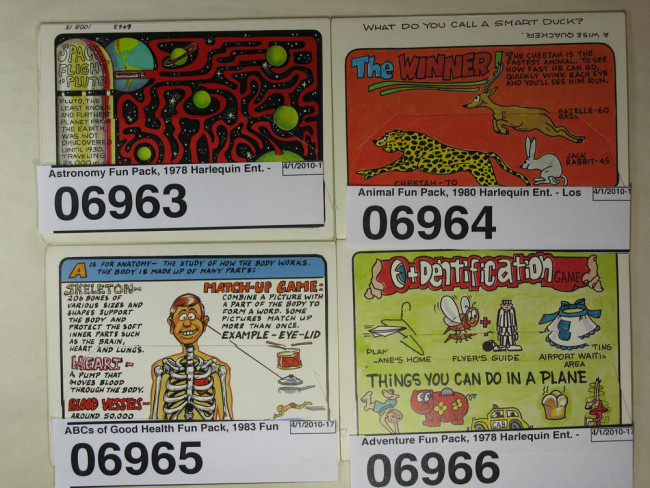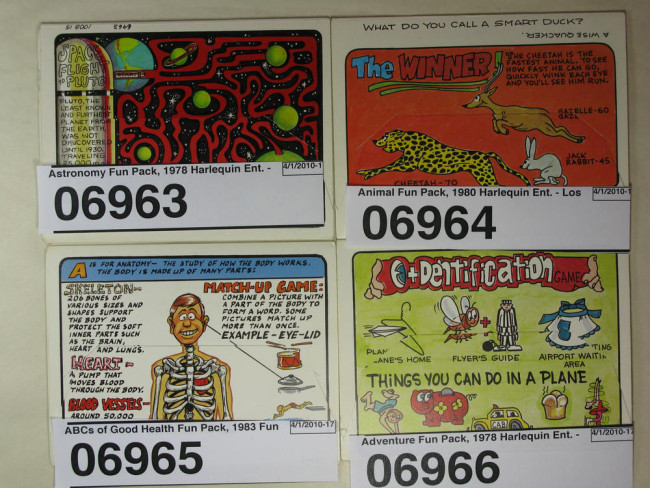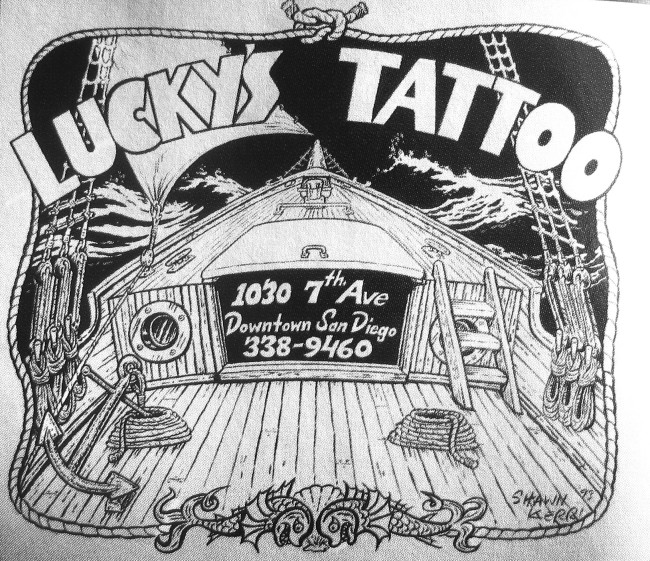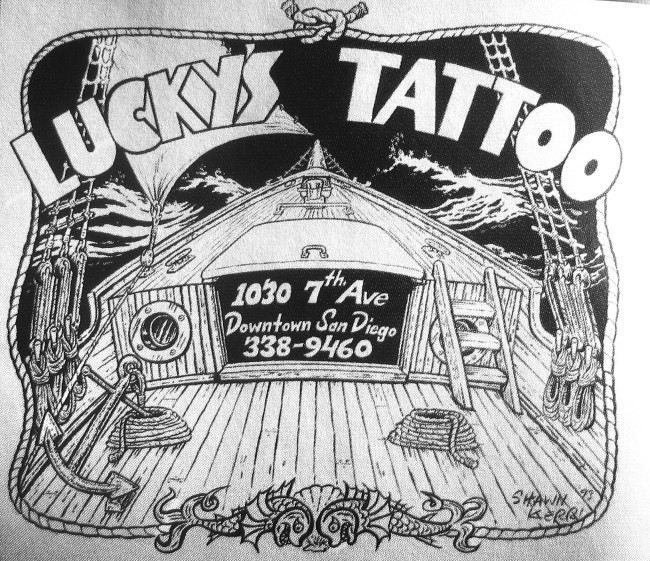 [1] Flyer drawn by Kerri in 1985 taken from Garage Magazine No. 18; [2-4] CARtoons covers from jalopyjournal.com; [5] Good Health Fun Pack from webapp1.dlib.indiana.edu, [6] Advertisement for Lucky's Tattoo, San Diego taken from Garage Magazine No. 18
But Kerri also enjoyed "doing cartoons to amuse [her] friends." Those friends happened to be fellow (hardcore-)punk kids, members of The Germs or Circle Jerks, among others, for whom she illustrated flyers, tour posters and record covers – all with her distinct style and humor that she had honed as a cartoon artist. Being involved in the Los Angeles punk scene since 1977, her first printed outlet was the zine Rude Situation that she put out with her then-boyfriend Mad Marc Rude in 1978. Her most active time in drawing illustrations for hardcore bands and gigs was, a little later, from 1980 to 1982 when she was in her early 20s. Afterwards she still occasionally drew for bands until the end of the 1980s. It's quite self-evident that her main influence was cartoon related. She mentions "Jack Davis and Bill Elder, who worked for MAD in the 1950s." Harvey Kurtzman and Wally Wood who also worked for MAD are additionally listed as Kerri's inspirations in the Who's Who of American Comic Books. But her involvement in punk also influenced the cartoons she drew for her various job assignments that are here and then populated by skaters and punks.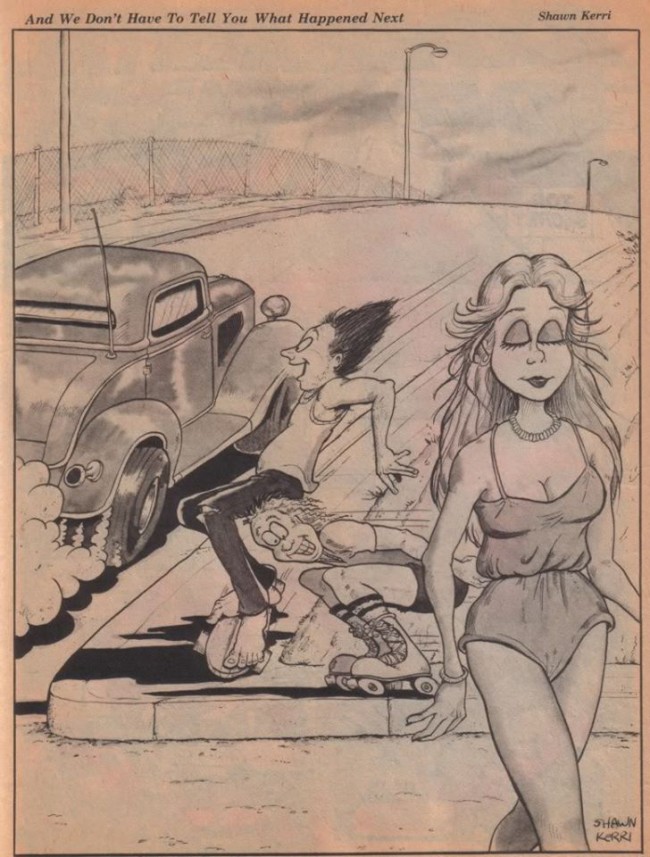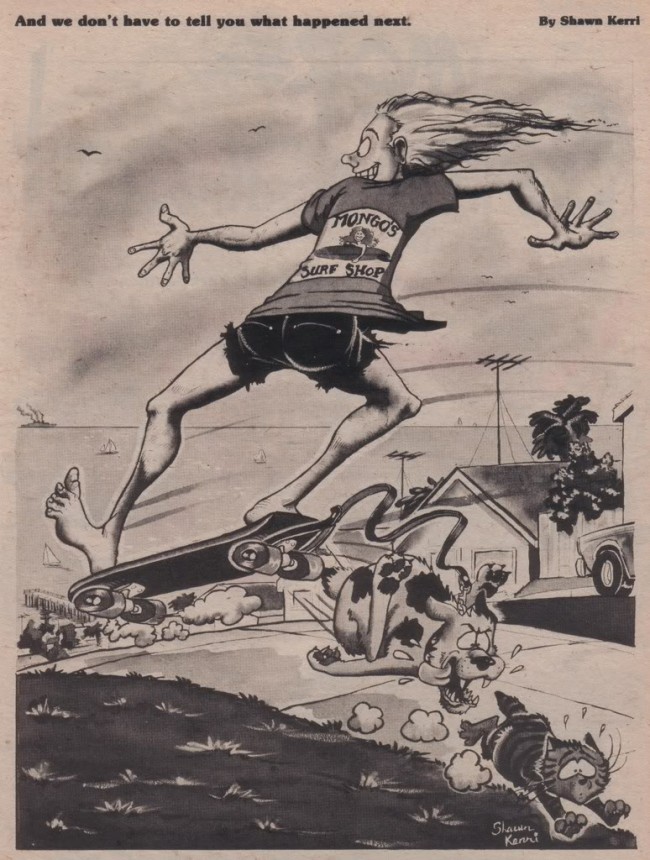 Images from jalopyjournal.com/forum, wulfyworld.tumblr.com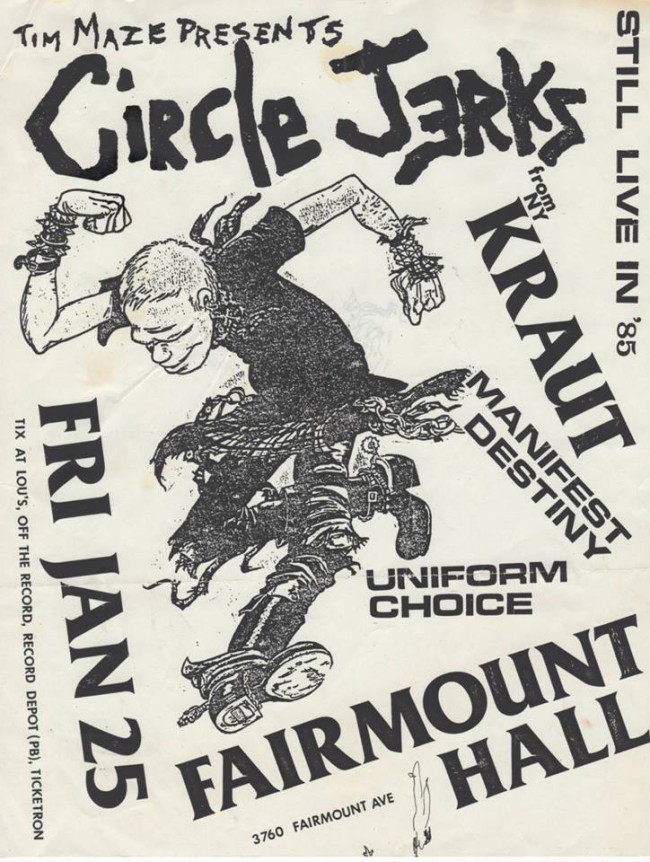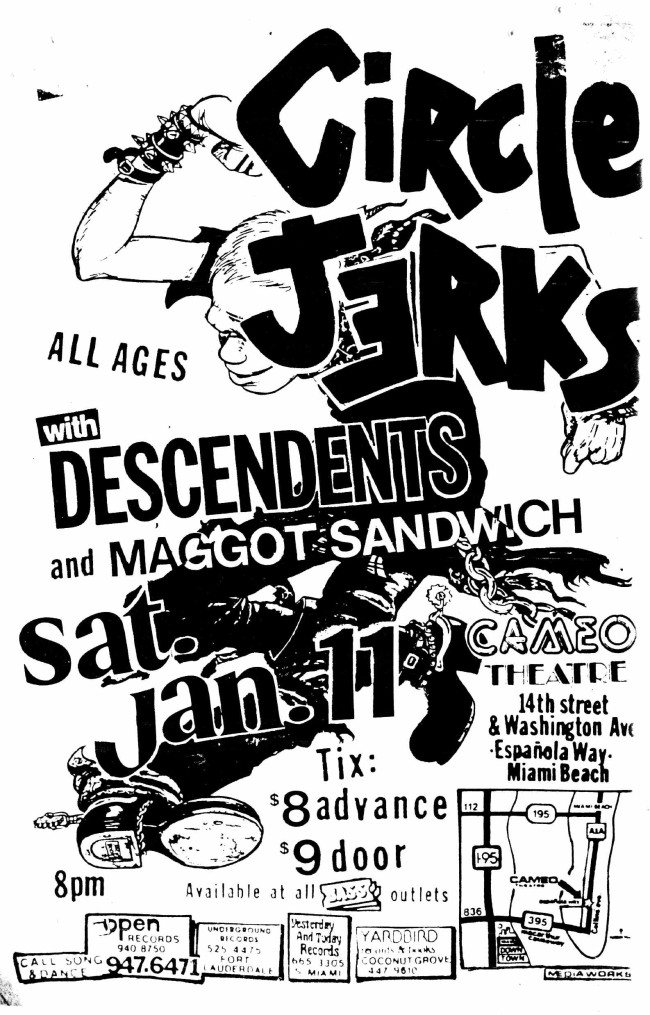 Images from (1) gigposters.com, (2) mostly-uninteresting.blogspot.com, (3) floridapunk.wordpress.com
To get an overview of Kerri's work was quite a challenge. Despite the fact that a couple of her flyers circulate constantly online, a lot of her other works are harder to come by. Trying to be as exhaustive as possible nearly turned into an obsession for me; spending, for instance, $20 postage for a $2 magazine. But getting an overview of her work is also complicated by the multiple use of some of her drawings on different flyers and sometimes on different outlets, be it a handbill, a record cover or a tour poster. To simplify, I'll only concentrate on first uses; first time on each media. These first uses are also distinguishable from others because Kerri – a professional in the art game – signed and dated all her work. No signature and date means – as a rule of thumb – that the flyer was not officially illustrated by Kerri.
Given the importance of Kerri's work and the fame she had already very early on for her work, it is astonishing that only one interview with her was conducted at the end of the 1980s. Paul Grushkin talked with her for his book The Art of Rock that was published in 1987. Whenever I cited Kerri before or will cite her in the following, it is from this interview.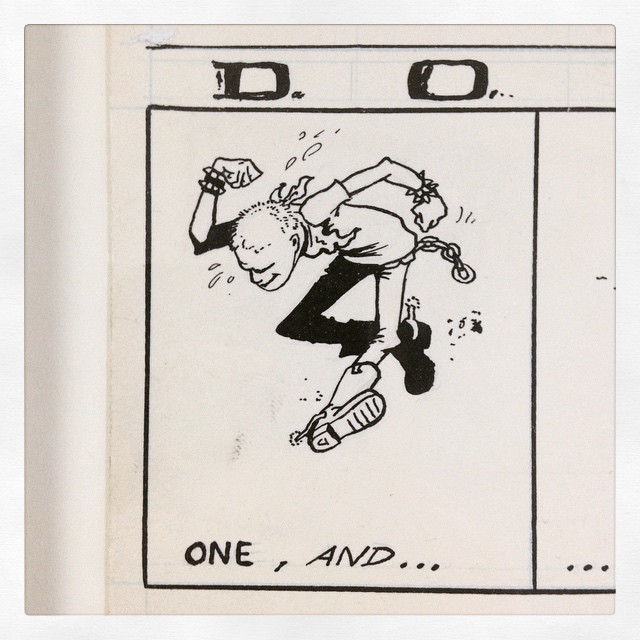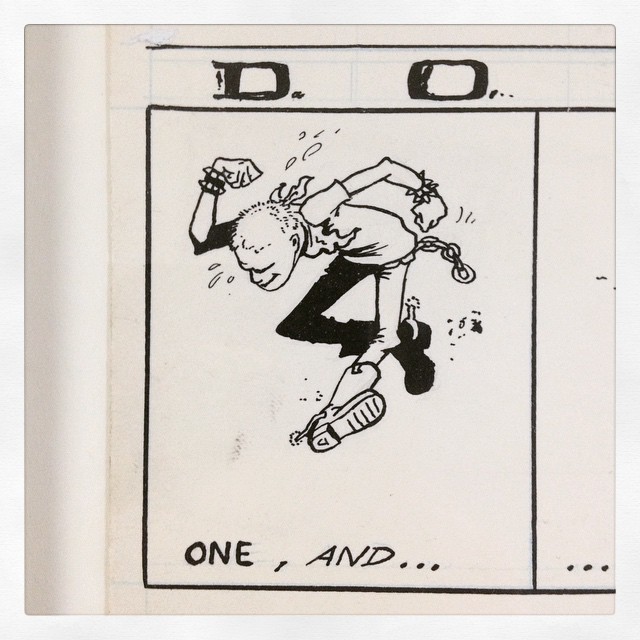 Detail of the dancing instructions on Circle Jerks Group Sex insert, 1980 from twitter.com/rufus_dayglo
The "Skank Kid," as she named it, is no doubt the drawing Kerri is most known for. What I find most interesting about it, is not the fact that it became part of the Circle Jerks' branding and one of the most classic hardcore punk mascots. But that it can be seen as a piece of a sort of visual ethnography of the early 1980s Los Angeles hardcore(-punk) scene that a huge bulk of Kerri's work presents. "What I was doing with my poster art was more like illustrating the scene as it was happening, chronicling it, so to speak," Kerri resumes this point when talking to Grushkin. And it is true. When overlooking the cartoonish aspect of her work, one will see mosh pits filled with young men dressed in leather jackets, flannel shirts, tattered pants, boots or Chucks and adorned with cross earrings and spiked or studded wristbands, chains as belts and sometimes a mohawk, flailing their arms, slamming and stage-diving, while the onlookers – mainly men but also a few women- are represented consuming quite huge amounts of beer undisturbed or motivated by the switchblades and beer cans flying around them.
What Kerri drew here, was actually what she terms the "second wave of punk," "beach punks" or "hardcore" evolving in Los Angeles in the beginning of the 1980s. Whereas she positions herself as being from the first wave of punk – having moved to Los Angeles in 1977 -, she describes the new wave as "different," "a little more physical and violent" and kids were (with 15-18 years old) quite a bit younger than her generation where everyone was over 21 years old and, in opposite to the younger crowd, a "little bit snobbish and a little artsy." Also, according to her, frontiers of who belonged and who didn't were a lot more vigorously defined by the younger kids who "automatically chased off [people considered as outsiders] with physical harm." This "led to real fighting among people who should all have been on the same side," according to Kerri. She was, as it seems, quite ambivalent about this second wave of punk or new wave of hardcore kids. "I was terrified of them," she tells Grushkin and adds, "but they were a lot of fun to watch." Kerri thus positions herself as an outsider, an observer of this scene, from which she kept a clear and certain ironic if well-wishing distance: "When you're standing there drunk and you're watching all that – well, I thought it was the funniest thing I'd ever seen," she also states and further: "It's like when people do chicken fights in swimming pools, sitting on people's shoulders trying to knock each other off. Things could get pretty violent."
In sum, Kerri became an complaisant observer of the nascent hardcore scene in Los Angeles that she documented with a lot of drawings that were used for flyers or record covers. In this post on Kerri's work I will concentrate on all these illustrations that could be lumped together under the header of a "visual ethnography of early LA hardcore." I'll only talk about her illustrations here without juxtaposing them to photos, interviews excerpts with or other verbal descriptions by people who witnessed that scene. These would, in any case, verify what can be seen in Kerri's work — like this classic photos of boots taken by Edward Colver at Oki Dog after a Starwood show in 1980.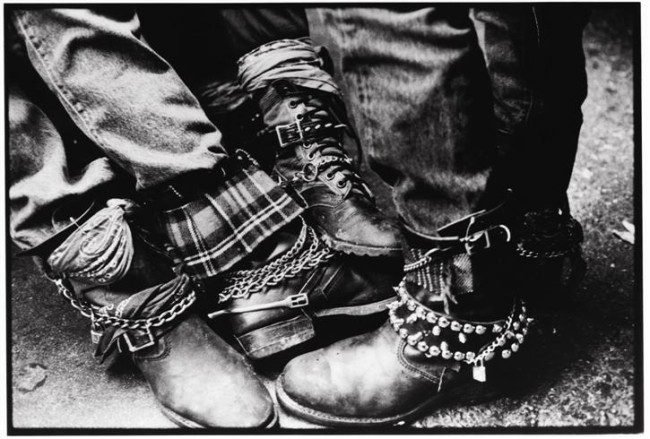 Photo by Edward Colver (1980) from morrisonhotelgallery.com
To enter Kerri's graphical description of 1980s LA hardcore, Kerri's most famous drawing, the "Skank Kid" certainly is the best entry point. The Skank Kid simply depicts a hardcore kid dancing. His name derives from the style of dance, "skanking", that he's performing. Skanking is a term that Kerri and the Circle Jerks preferred over its synonym slam dancing or slamming; a dance style that was – inspired by Ska and Reggae – characterized by "a sharp striking out stance with the arms" according to Grushkin. Kerri describes the Skank Kid as a "composite" but one could also say that he represents a drawn ideal type of the male hardcore kid of the Los Angeles hardcore scene in the beginning of the 1980s. Kerri explains: "[…] the reason he has sort of a bland face was because I wanted everyone of those kids to think they were him. He was supposed to be all of them lumped into one. He was everyone of those little beach brats." Morris, Circle Jerks singer, agrees: "None of us looked like that kid, but that kid looked like all the kids that came to our shows."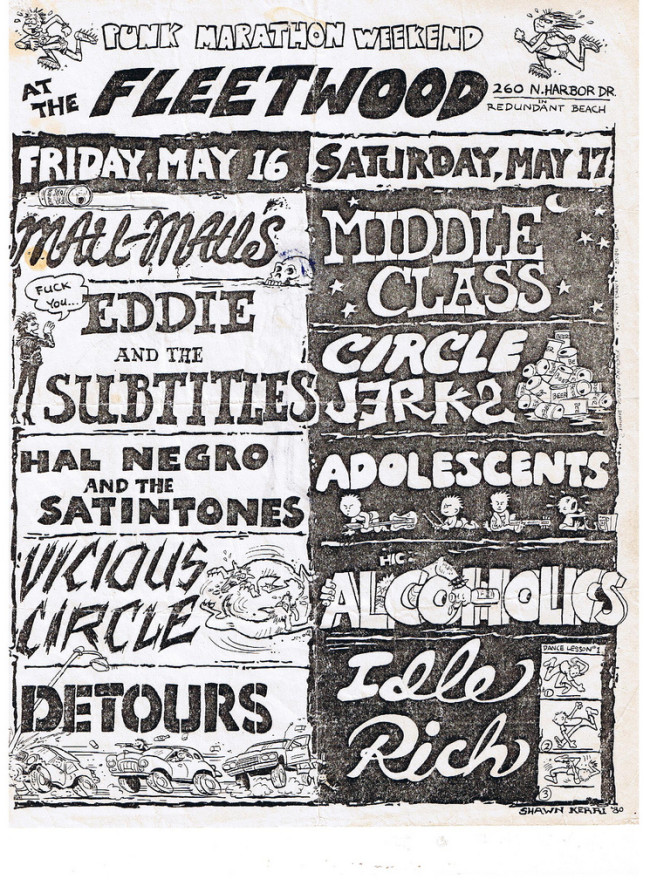 Image from wulfyworld.tumblr.com
According to Kerri, the "Skank Kid appeared first on a flyer for a Fleetwood show." She is probably talking about the "Dance Lessons" on the flyer for a two day festival that she did in 1980 (above). Afterwards, Kerri put the Skank Kid performing slame dance instructions in six steps as a space filler on the lyrics sheet of the Circle Jerks' Group Sex (1980), on a yellow bumper sticker and a "ten-foot-tall drop cloth" (only displayed at one show). The drawn slam instructions apparently became a manual that quite a few people relied on to learn and practice their slam dance moves at home; like obviously that person underneath at the back of the pit at a DOA show in 1981. It is also from the 'Slam-dance instructions' that the Circle Jerks choosed the "swastika-shaped Skank Kid," as Kerri names it, to become their mascot.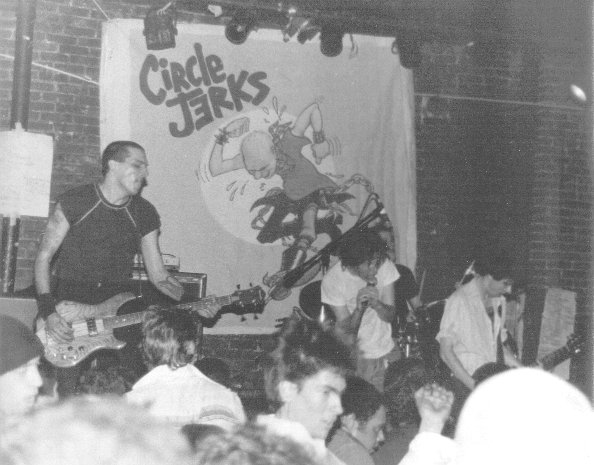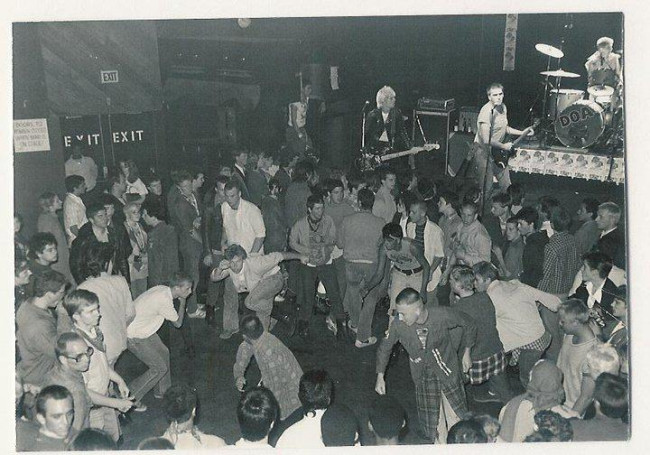 (1) comicartfans.com, (2) discogs.com, (3) flickr.com/people/33135085@N02 copyright by Superbawestside1980, (4) geocities.ws
In 1981 Kerri drew a new series of the Skank Kid that ended up on Circle Jerks' Wild in the Streets in 1982. Black and white illustrations were put on the inlet and the first full color version of the Skank Kid found it's place on the back cover. A last time that Kerri drew the Skank Kid for a Circle Jerk output was in 1987 for their album VI. But the very last Skank Kid that Kerri apparently drew is an unofficial version in the sense that it was a commissioned drawing that she made in 1993. Tatooer Mike Stobbe met Kerri by chance on the beach in Pacific Beach and requested her to "paint [him], tattooing on the circle jerks guy." At that time the copyrights to the Skank Kid were long signed over by Kerri to Circle Jerks' singer Keith Morris to avoid what was "turning into a terrible legal brawl" between Kerri and the band and their management at a moment.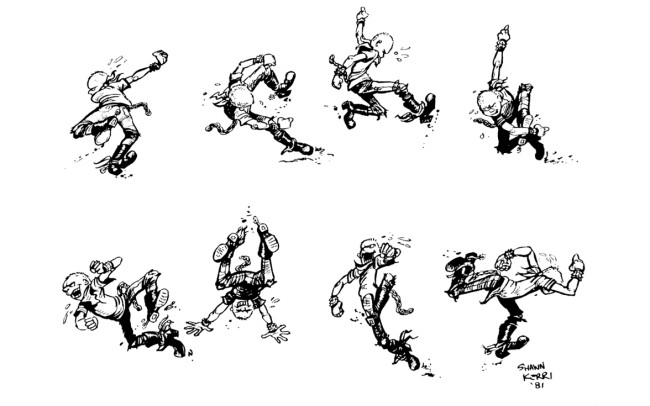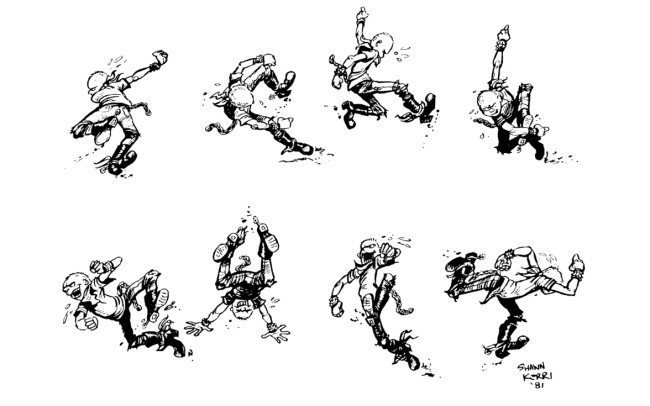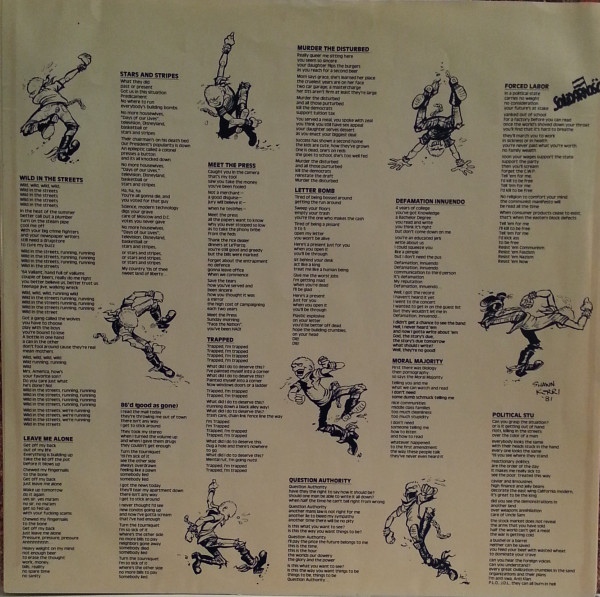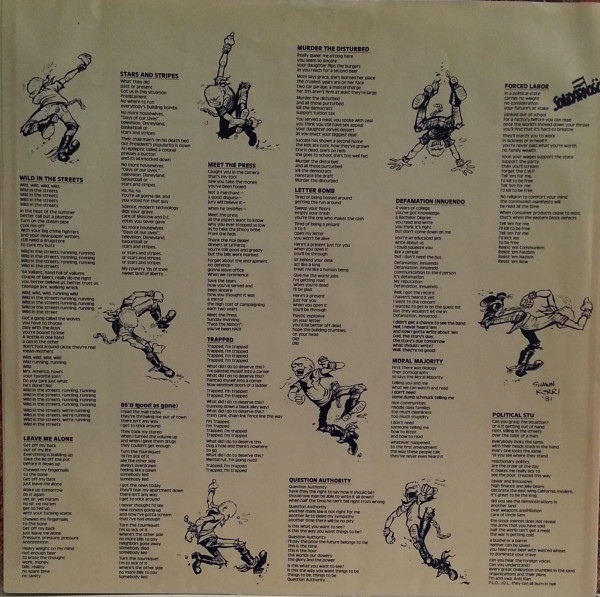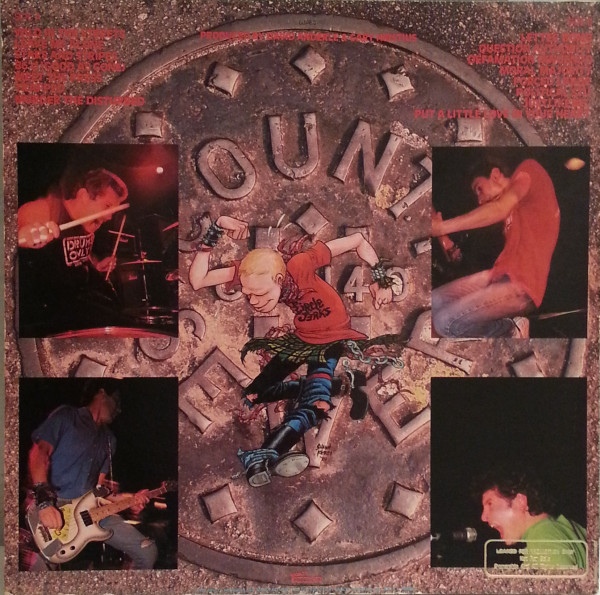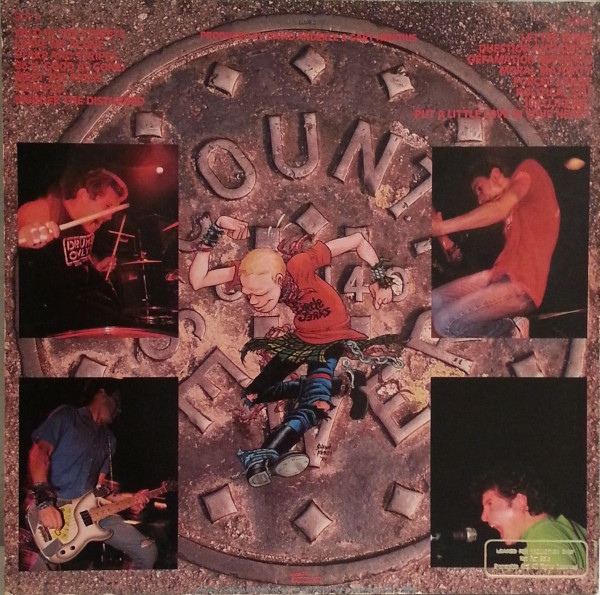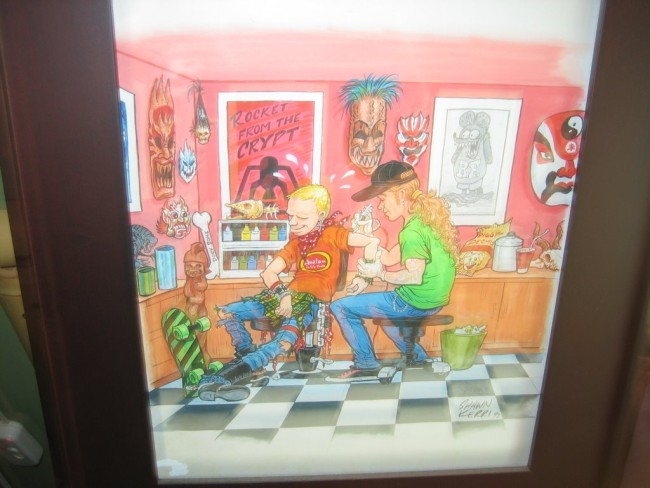 (1) inmyselfitrust.tumblr.com, (2-4) discogs.com, (5) mostly-uninteresting.blogspot.com
But Kerri not only drew the Skank Kid. She did quite a few similar drawings to this mascot; especially in the early 1980s. The main difference is that the kids in the drawings have mohawks or a shaved head instead of the short hair sported by the Skank Kid. Also, Kerri included more context in these drawings – a pit, a venue, a packed tour bus, a bedroom or a class room appear. All these illustrations give more glimpses into LA hardcore in the early 1980s and the everyday lives of kids at that time: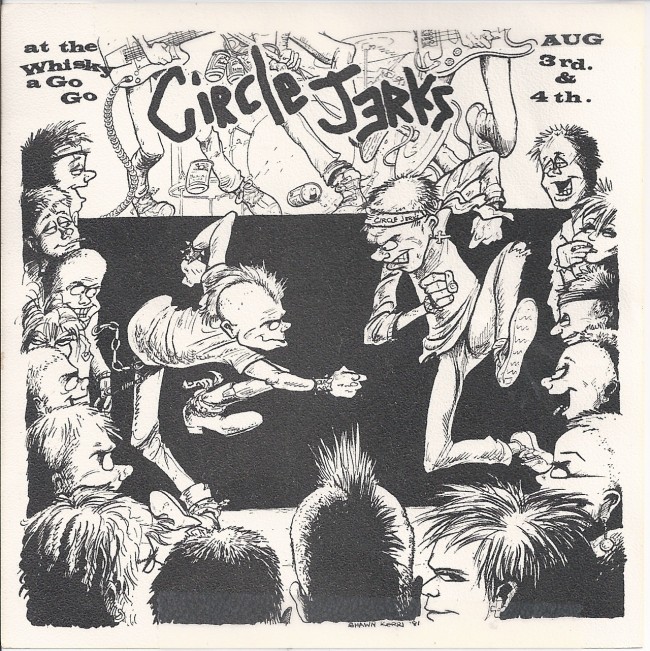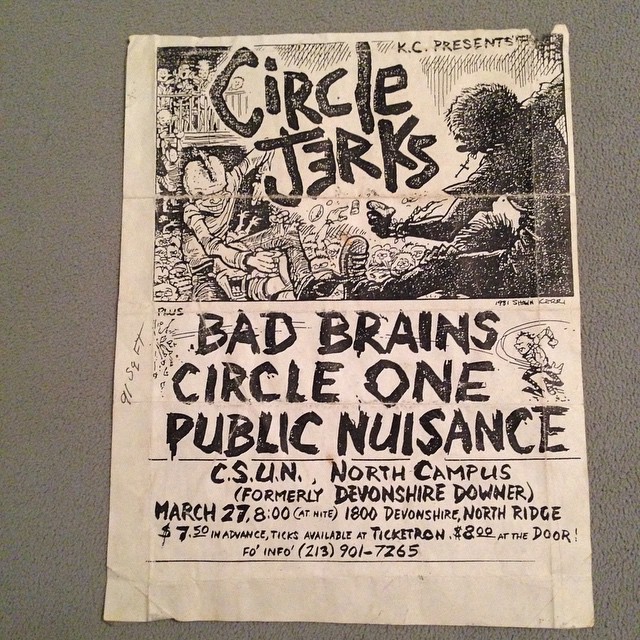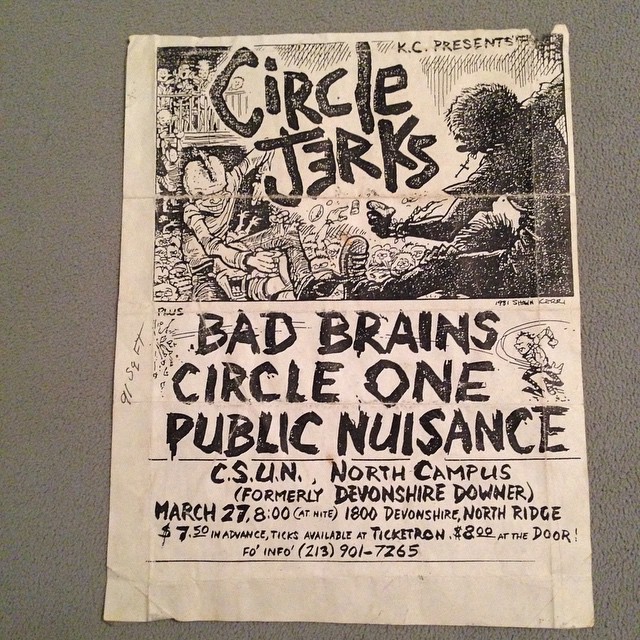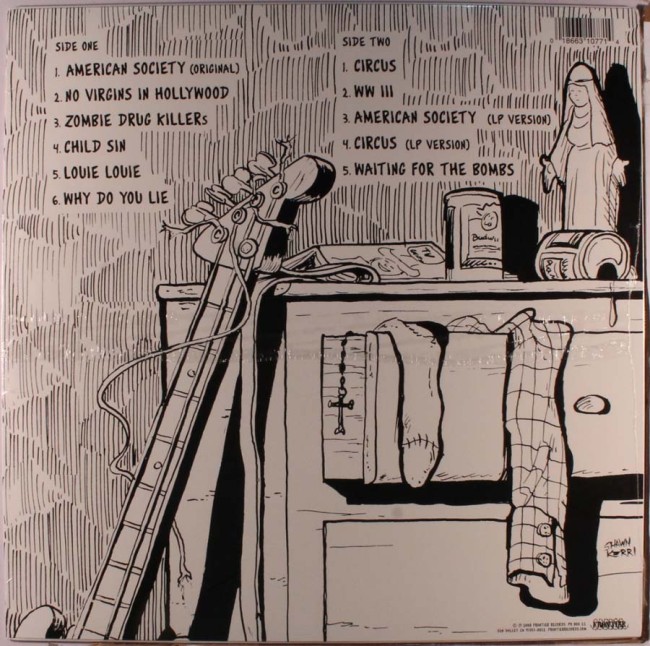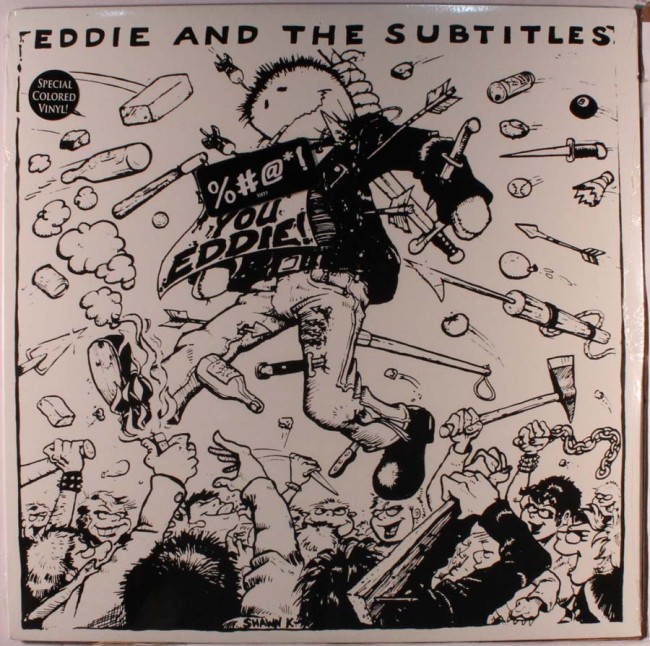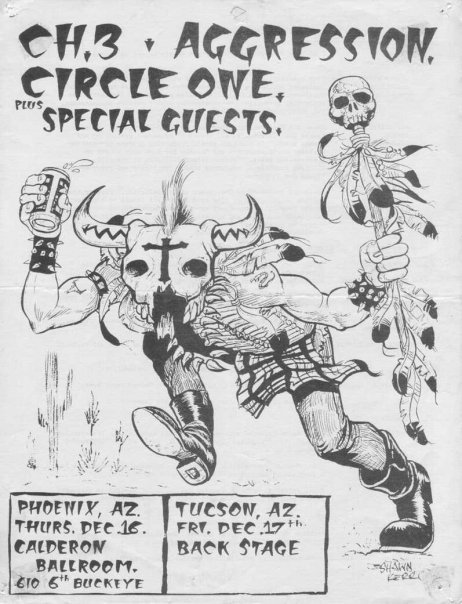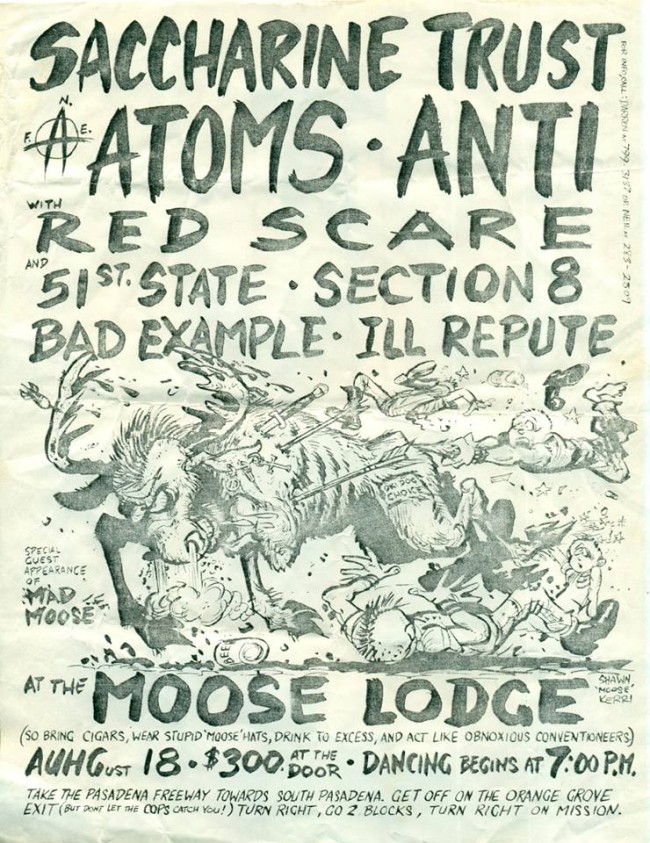 (1) mainthreat.tumblr.com, (2) photo.sh, (3) muypunk.com, (4) s318.photobucket.com, (5-6) discogs.com, (7) shavedneck.com, (8) flickr.com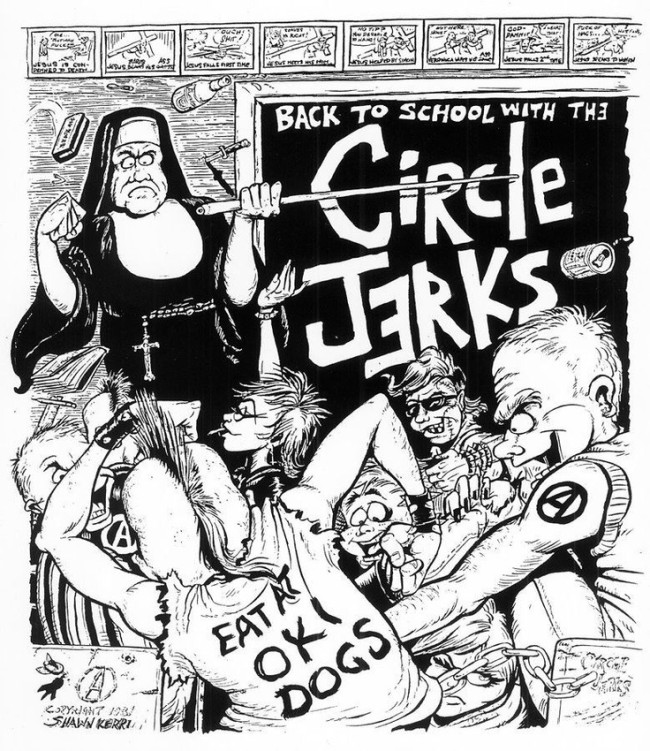 Image from pinterest.com
The flyer just above, drawn in 1981, depicting a classroom scene is one of Kerri's favorites. The kids "jump around in mohawks and chains and boots" in this classroom while looking toward the chalk board where "an enraged nun shaking her fist at whoever wrote 'Circle Jerks' on the blackboard." In the other hand the nun holds a pinter and points to the writing on the board. In this flyer Kerri actually works up her own memories of attending a catholic school for seven years, as she told Grushkin, where she felt like a misfit and passed her time drawing "ancient battle scenes-Romans vs. Barbarians, Crusaders vs. moslems, etc." all inspired by Bible stories she heard in class. The nun on the flyer represents the principal of her school and the pinter actually was often used by nuns "as a weapon" during her school days.
On top of the flyer Kerri drew her own version of the first eight stations of the cross and turned it into a cartoon of Jesus on the day of his crucification. Staying very close to the original version and only adapting the comments of the people involved, the descriptions and statements read like this [the original version, if diverging, in brackets]:
[1] "Die muthah fucker" – Jesus is condemned to death.

[2] Jesus bears bares his cross ass [Jesus carries His cross]

[3] "Ouch! Shit!" – Jesus falls first time

[4] "Serves you right!" – Jesus meets his mom [mother]

[5] "No tip? You deserve to hang" – Jesus helped by Simon [Simon helps Jesus carry his cross]

[6] "Not here honey" Veronica wipes his face ass. [Veronica wipes the face of Jesus]

[7] "God. Damnit" Jesus falls 2nd time [Jesus falls the second time]

[8] "Fuck of hags…" Hate fans – Jesus speaks to women. [Jesus speaks to/meets the women of Jerusalem]
"It was just extremely rude," she comments this version of the stations of the cross and adds "[…] and everybody got a kick out of it because they knew what it was. If you were Catholic, you knew it."
The classroom drawing was also used for the advertisement of Circle Jerks' Wild in the Streets and a concert flyer later on. But for both later versions, Kerri replaced the invitation to "Eat at Oki Dogs" with the Skank Kid. Oki Dog was a fast food restaurant located on Santa Monica Boulevard that was one of the hang out places for hardcore kids at that time – among them members of The Germs, The Circle Jerks, Suicidal Tendencies and Bad Religion. But by the time of the Wild in the Streets LP came out in 1982, Oki Dog had "fallen from grace as the 'in' punk hangout" according to Paul Grushkin – the reason why the writing was substituted with an illustration.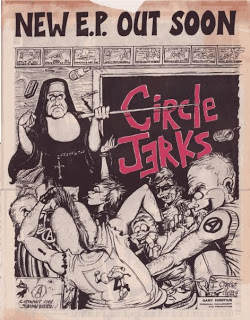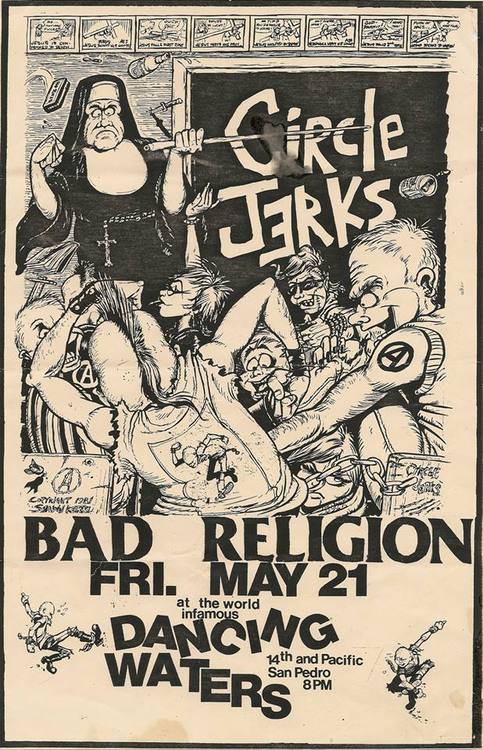 (1) pinterest.com/kristamacintosh, (2) punxinsolidarity.files.wordpress.com
Similar to Oki Dog that is not only featured by Kerri in her illustrations but also very often mentioned in people's description of the early 1980s LA scene, there are also a couple of venues that are always talked about like the Whiskey a Go Go or the Fleetwood. In the same vein and to sum up this first part on Kerri's work, looking at the flyers Kerri drew and especially the clubs that are mentioned on them, one can get a pretty good idea of the geography of LA hardcore in the early 1980s – googlemapped by Noah Albert. Hollywood is present with The Whiskey a Go Go, The Starwood, The Monte Carlo and Florentine Gardens, Melrose with the Ukrainian Culture Center in Melrose, Santa Monica with The Troubadour, Redondo Beach [Redundant Beach in Kerri's parlance] with the The Moose Lodge Hall and The Fleetwood, and San Pedro with the CSUN Campus North Ridge and the Dancing Waters. All these were the actual places where hardcore kids gathered and hardcore came into being.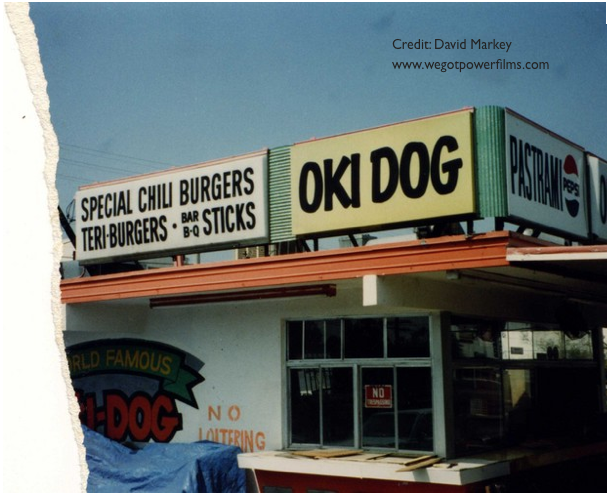 (1) Geography of 1980s hardcore in LA put together by Noah Albert; (2) Oki Dog photographed by David Markey from purdymuch.com
More hardcore layout? Click here.