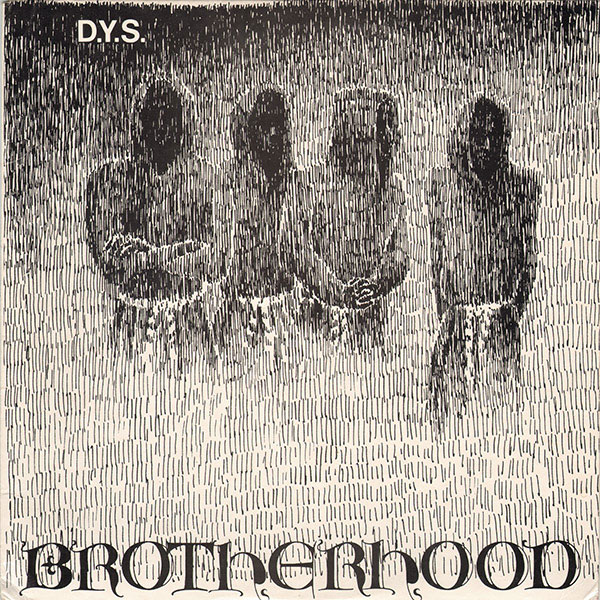 I finally got the DYS Brotherhood (1983). Apart from their classic Wolfpack, I love the cover – so it was just natural to write about it and make it the number 8 in my series on hardcore layout. However, this led me to some other topics. So this is three stories in one: one about the DYS cover, one about women in hardcore and one about hardcore as a collective activity – all wrapped around the seminal releases of X-Claim records.

Let me start off with the DYS cover. "Who did the cover?" does not have a simple answer. Radio Silence's authors Nathan Nedorostek and Anthony Pappalardo credit the Mighty Mighty Bosstones' singer Dicky Barrett for it. But the artwork credentials on the vinyl state two more names: John Steczynski and Bridget Burpee.
John Steczynski was an art professor of Fine Arts at Boston College at Boston, DYS's hometown, and – even though I haven't heard back from him to verify – if one compares these two drawings by him with the cover, the similarity is just too striking:

"The Fountain of Life" (1982), "The Tree of Life" (1980) by John Steczynski from bc.edu
In addition, Steczynski mentions religious and liturgical studies and his Roman Catholic background as influences on his work. I was always puzzled why the "mini army of angry youth" was represented by four monks but as their hoods looked as hoodies I never gave it more thought. That's why I agree with  Kyle Whitlow, when he says that the cover "sorta paved the way for a lot of other "hooded youth crew" type imagery." Following Chris Bratton, the drummer of Chain of Strength, it is the photo of a x-uped, hooded Dave Smalley on the back cover that also launched the Youth Crew look – with the hooded sweatshirt as its "holy grail."
All that remains is to know what Barrett's contribution to the cover was? At first I thought he might have handwritten the LP's title. But in fact that is the Goudy Text Lombardic Capitals font.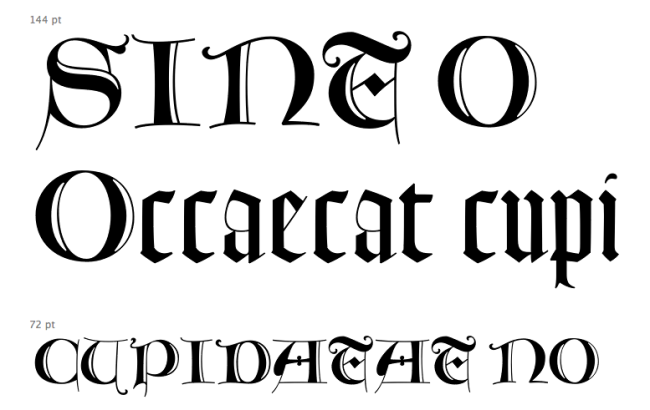 Image from myfonts.com
As for Bridget Collins aka Bridget Burpee, she did the graphic art of the whole Brotherhood LP. She is an interesting case as she was involved in the art work of five out of the six X-Claim's seminal outputs (1982-83). She was basically in charge of X-Claims art work. Nancy Petriello Barile who put up shows in Boston at that time and served as a manager for SSD, Minor Threat and others, defines Burpee's work as "the signature style of Boston." Except for the Jerry's Kids LP, she either did the artwork of the whole record, took the cover photo or did the cover design. Why is she interesting? Because no other information than this can be found on her. Sometimes she isn't even credited as in Radio Silence. All this feeds actually into a larger issue of the non-visibility of women in hardcore's past. A major reason for this is the way hardcore history is written, remembered and handed down to the next generation. One only needs to flip through a couple of books or watch some documentaries on hardcore and it's more than obvious that women are barely interviewed or don't really get screen time even if they were/are there.
As with most hardcore layout, Burpee's artworks – all characterized by a bold black and white graphic – were a collective activity by a couple of people – rather random (like with Glen E. Friedman) or more regular in nature. Philin Phlash aka Phil In Phlash, for example, who started out documenting the hardcore scene in the beginning of the 1980s by shooting photographs of SS Decontrol (fronted by his brother David Spring) and who also took the photo for the "This is Boston not LA" sampler, did the cover shoot for SS Decontrol's  The Kids Will Have Their Say. He also contributed photos for SS Decontrol's Get it Away and Fu's Kill For Christ booklets. Another rather regular contributor to the artwork was Bruce Rhodes whose photos can be seen on the  SS Decontrol's Get It Away, DYS's Brotherhood and the Jerry's Kids Is This My World.Pushead's, another household name when it comes to hardcore graphism, did the cover artwork for  the F.U.'s Kill For Christ and SS Decontrol's Get it Away.
Maybe because of this collaborative aspect, Bridget Collins states about her own work (when an extract of this blog entry was posted on the All Ages Film Facebook page): "I was just a layout and paste-up monkey. I never did any illustration and most of the bands knew what they wanted the LP covers to look like. I just made them printer format friendly."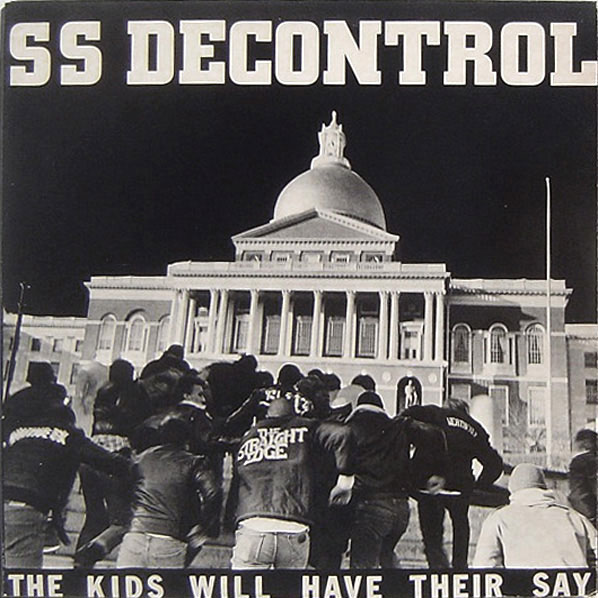 Here the original cover photo from X-Claim's webpage shot by Philin Phlash at the Massachusetts State House. Right underneath are some outtakes of the photo shoot.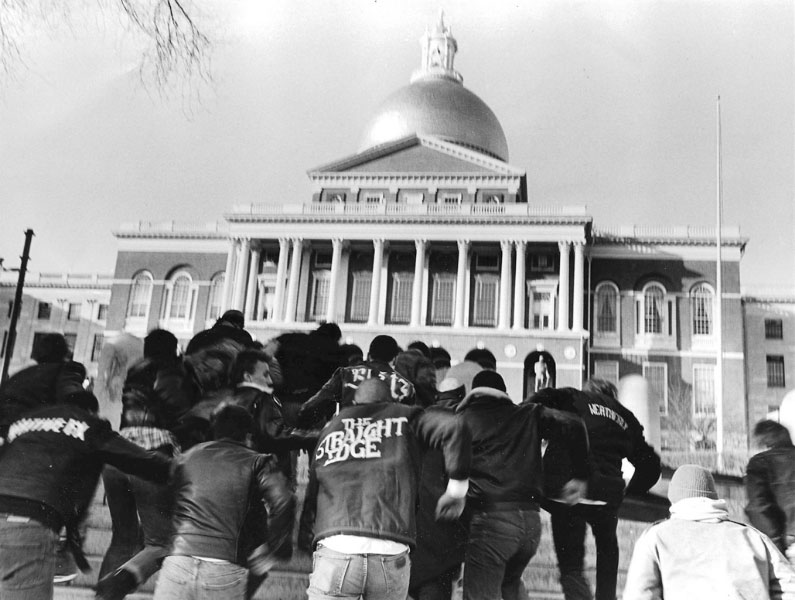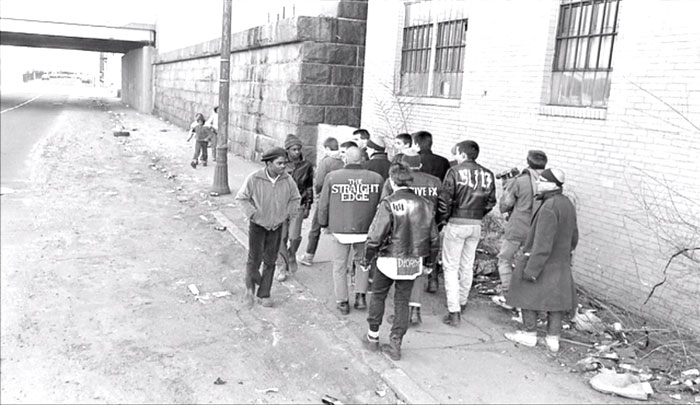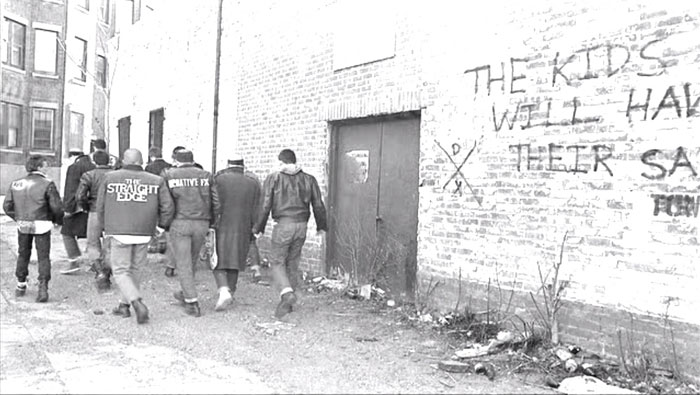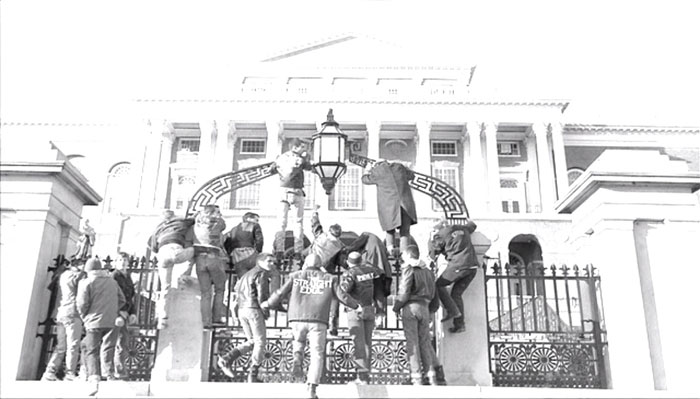 Outtakes from:allagesbostonhardcore.tumblr.com
The jacket Al Barile, SS Decontrol's guitarist and X-Claim's founder, wore for the photo shoot: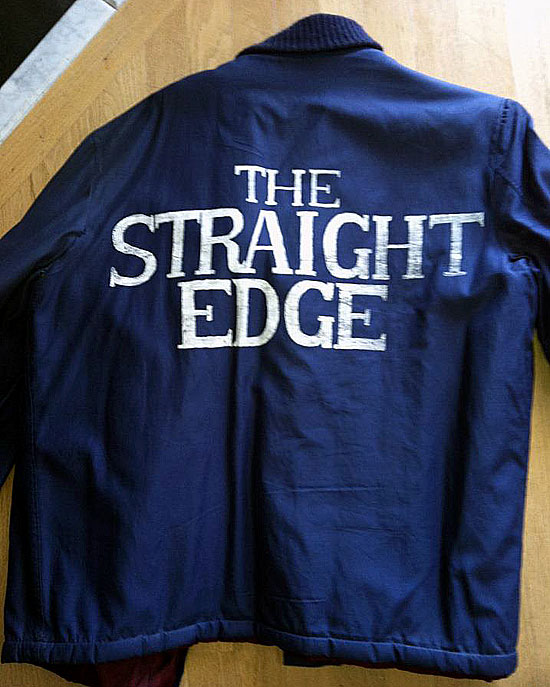 Photo by Nancy Barile – she posted it on Facebook sometime from allagesbostonhardcore.tumblr.com
Inlet and backcover of SS Decontrols' The Kids Will Have Their Say: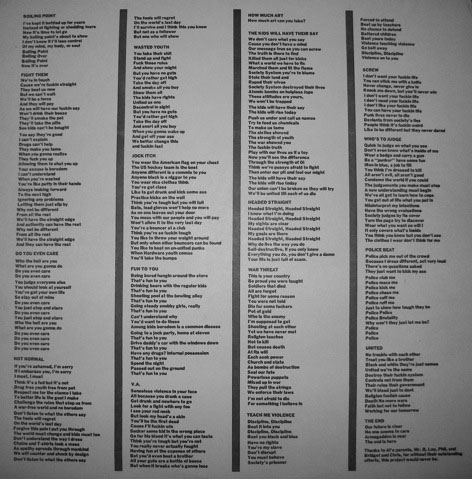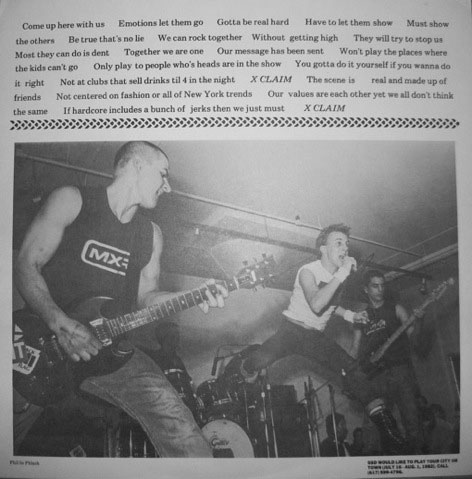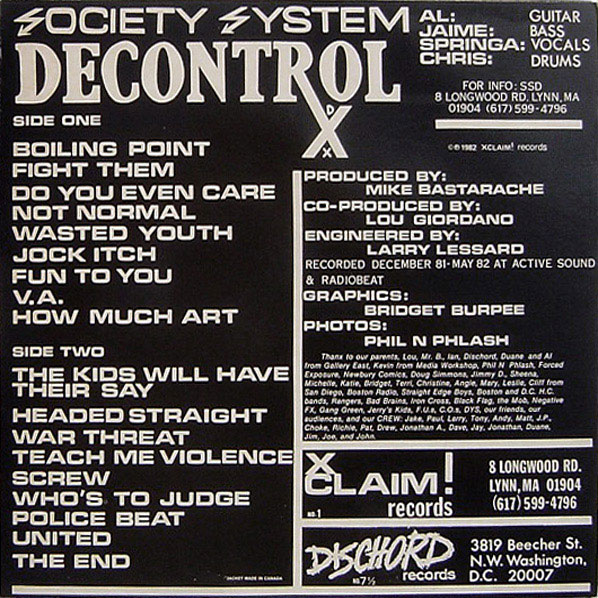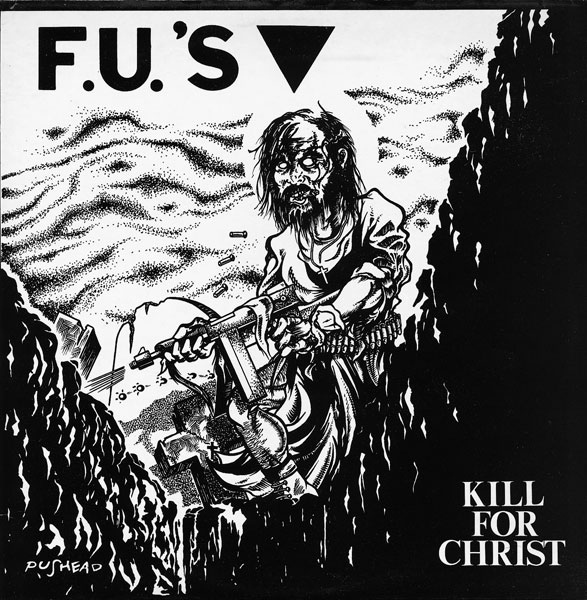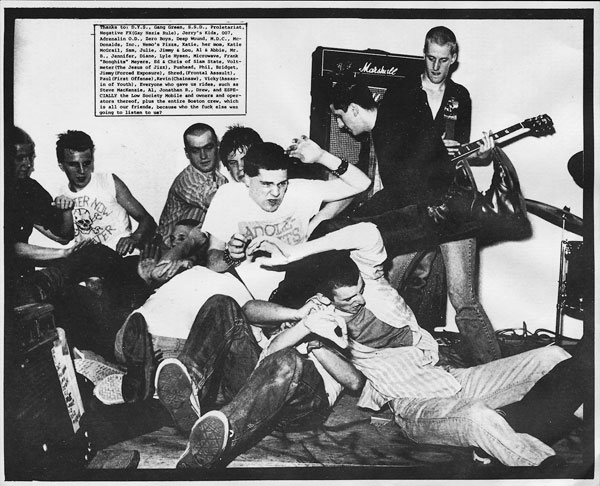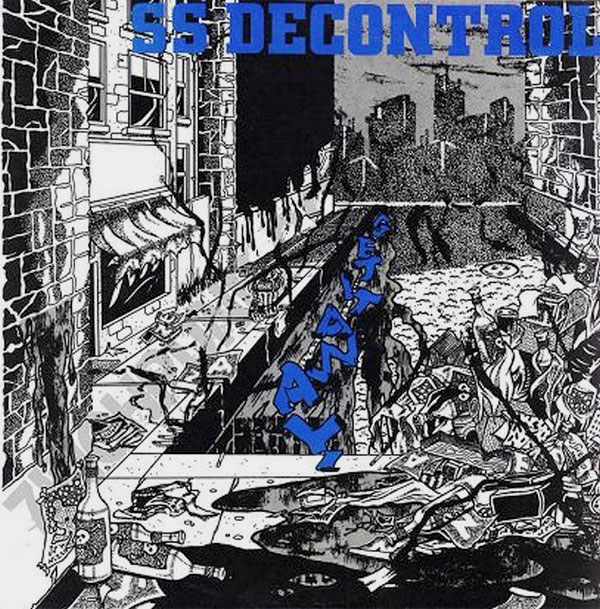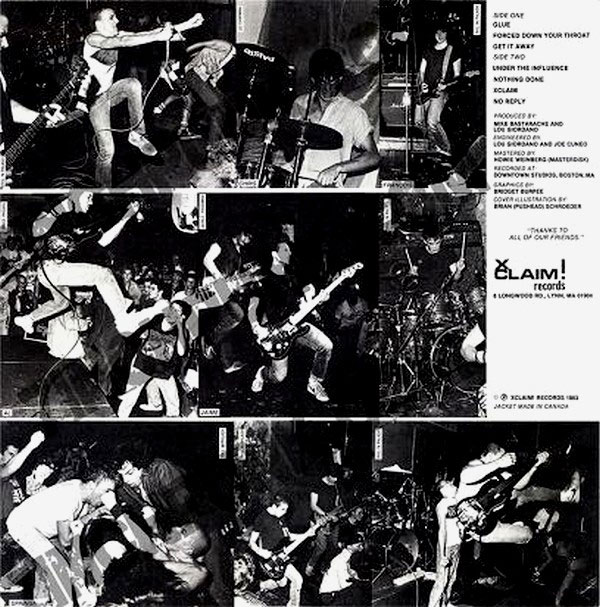 More
/ Photos taken by Bridget Burpee

All record images from discogs.com