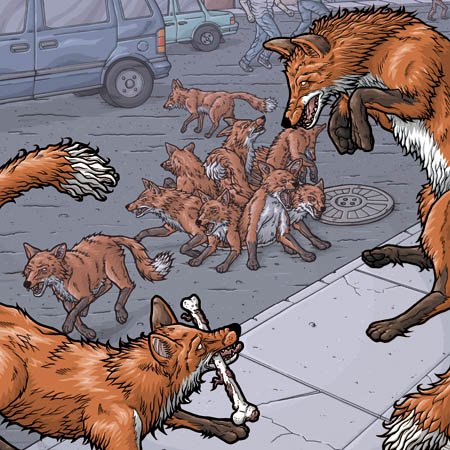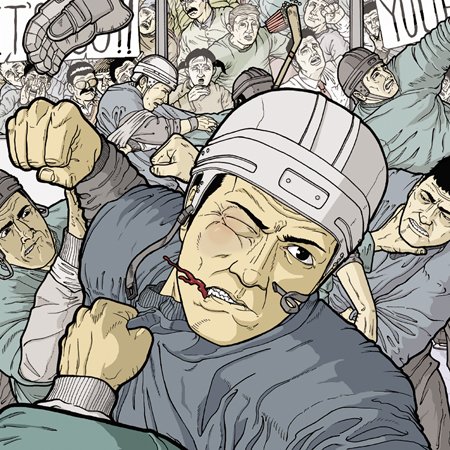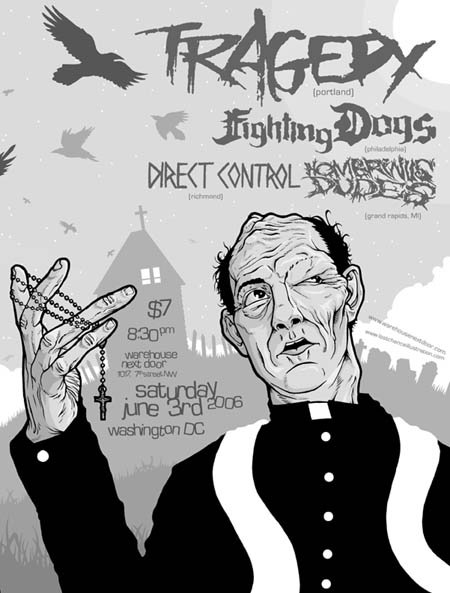 Images from lastchanceillustration.com
Meet Michael Bukowski, an illustrator for bands like Shark Attack, Poison Idea, Poison the Well, Strength Approach, Comeback Kid,  Your Demise, Donnybrook, Casey Jones or Most Precious Blood as the no. 5 of my hardcore layout series.
Bukowski earned a Bachelor of Fine Arts degree in illustration at the University of the Arts in Philadelphia. When he was a sophomore in 2000 he did his first illustrations for Shark Attack's Blood In The Water 7″ and R.A.M.B.O.'s demo tape. Nowadays he works under the name "Last Chance Illustrations" (stemming from the "One Last Chance" fanzine he put out in the 1990s with a friend) for bands all over the world. He draws record covers, shirts, flyers, posters or logos and brought definitely his own distinctive style into hardcore design building on horror movies, comic and record art. While doing this, he is also very up front about his convictions. He won't take on work for bands with racist, sexist or homophobic lyrics.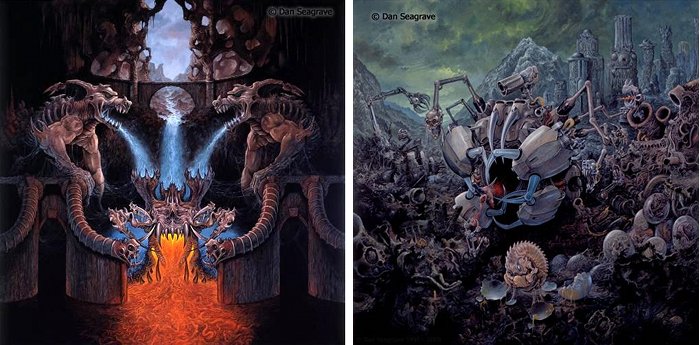 Dismember's Like an Ever-Flowing Stream and Suffocation's Effigy of the Forgotten cover by/from Dan Seagrave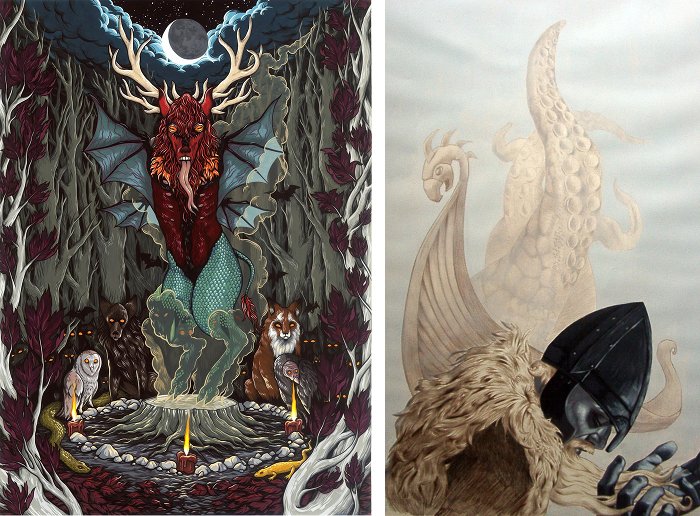 Art Print "The Woods" by/from Jeanne D'Angelo to be bought at shirts&destroy and "Viking", drawing on paper by/from Alicia Neal
Bukowski is very consistent when asked about his influences: "Horror movies… lots of horror movies" (he has a collection of 250 movies; a passion unvoluntarily instilled by his father), illustrators of metal and death metal bands and, finally, comic book artists. He names comic artists Charles Burns and Geoff Darrow as his most obvious influences and Dan Seagrave, Derek Riggs and Vincent Locke for getting him into record cover art. He remembers specifically the Suffocation Effigy of the Forgotten and the Dismember Like an Ever-Flowing Stream covers by Dan Seagrave. He nevertheless builds on a much larger heritage of a lot of others comic and record illustrators like Charles Burns, Michael Whelan, Vincent Locke, Junji Ito or Pushead. Interestingly, only three of the 24 artists he mentions in diverse interviews are from a punk/hardcore background: Shawn Kerri who drew for the Circle Jerks, Mark Mad Rude who drew the Misfits logo and Gee Vaucher.
Another influence is for sure his partner Jeanne D'Angelo and other illustrator friends like Justin Gray, or Alicia Neal as he tells Denis Carey.


Drawing process for Adepticon's 10 year anniversary t-shirt by Bukowski. One of many Mike Bukowski posts on his site lastchanceillustration.com
He describes his drawing process as following: He does a couple of ten seconds scribbles to get the composition, the idea or proportions down. Afterwards he takes pictures of friends in exactly the same position or searches the internet for images of places, buildings or animals. This finished, he does the pencil drawing and inks it. This takes him two to three days before he scans the result. The last step is to add color and render it in photoshop. "The whole process, for a record cover, start to finish…if I can work on it intensely, takes about a week and a half.", he tells Denis Carey.
Bukowski doesn't make a living off his illustrations and always worked part time for example in a gallery or as a house cleaner. In the same time he starts to enter the art market with solo and group exhibitions. He also got attention for his on-going project "Yog Blogsoth". "I'm illustrating EVERY monster/god that H.P. Lovecraft has ever written about. Cthulhu, The Great Race, Elder Things, Shoggoths", he summarizes this project when talking to online magazine Blow The Scene. Here two of them:

Lovecraft's "Spawn of Cthulhu" and "Ashmodai" by Bukowski from "Yog Blogsoth"
More
/ Bukowski's page Last Chance Ilustrations
/ Bukowski's projet "Yog Blogsoth"
/ Follow Bukowski's art column on Blow The Scene here: "The Column Out Of Space"
/ Interview with Bukowski by Denis Carey