This cover represents one of the best summaries of straight edge: "Straight and ALERT". It represents the envy I had of friends who sported their "Screaming for Change" crew college jackets in the mid-90s. It also represents a band that tried something different than the standard hardcore with Dubar's spoken words. But first and foremost, it is still one of the covers that captures hardcore's raw energy at best.

This artwork was done by Gavin Oglesby, mostly known for playing in No For An Answer, Ignite, Carry Nation, The Killing Flame or Triggerman. But he also quite often took part in the artwork of his or other bands. Actually he always went back and forth between making music and making art. While being engaged in hardcore bands (with some breaks in-between), he studied graphics, packaging, illustration and painting and worked later on at advertising companies and as a full-time illustrator where he did work for clients such as Disney, Warner Brothers, Tommy Bahama, Universal Studios, Britney Spears or Gossip Girl. This is no. 9 of my series on hardcore(-punk) layout.
Oglesby's artwork for hardcore bands can be separated in three successive phases.

Cover Uniform Choice from doublecrossxx.com, cover M.I.A. from discogs.com, cover Unity from discogs.com

The first phase constitutes Oglesby's beginnings in the mid-1980s. It is the phase of his pre-art school days. He seems to have inspired himself from the artwork that was going on in hardcore at that time. For both the M.I.A. (1984) and the Unity's "You're the one" cover (1985) he used the pointillism technic mostly associated with Kevin Crowley's work. His style changed a bit with the cover for Uniform Choice's "Screaming for Change" (1986) and this artwork paved the way for the second phase that was dominated by photorealistic drawings.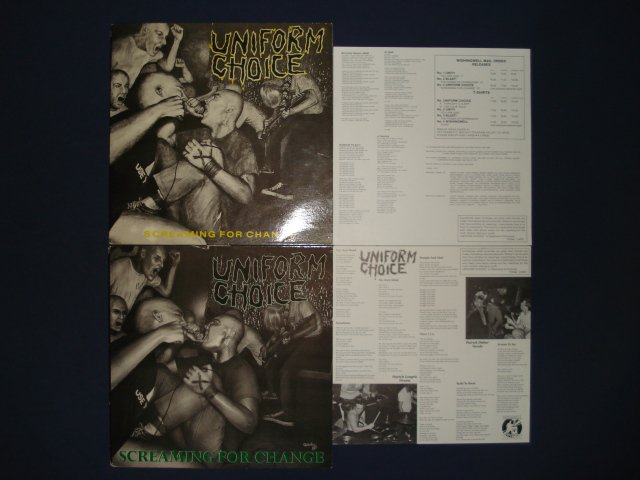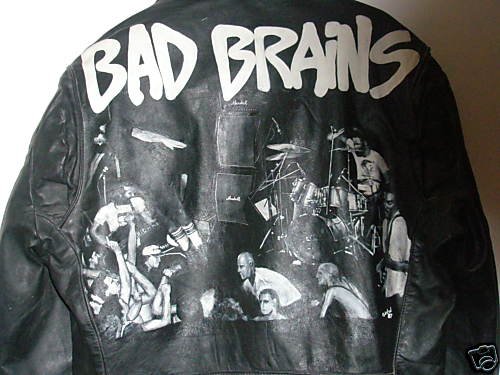 Comparison UC covers from seekingthesimple.wordpress.com, Bad Brains painted jacket by Oglesby from teetilldeath.com, Minor Threat painted jacket by Oglesby from historyofourworld.wordpress.com out of "Radio Silence"

Apparently there are four presses of "Screaming for Change". It is the first press that differs the most from the rest because of the cover drawing and the back cover photo. For the first press, Oglesby painted the image because the photo Uniform Choice wanted to have on the cover was too dark to be reproduced. Also, they decided to change the people in the photo (in depicting everyone with a shaved head) so that it would represent something like the ideal type of a straight edge hardcore show.
At that time Oglesby was fairly well known for painting leather jackets in Orange County – a common asset for "straight edge punks" at that moment (the Bad Brains and Minor Threat leather jackets above are two of the pieces he did). As he had mostly painted on leather, it "seemed natural" to also do the painting for the Uniform Choice cover on leather – and not on canvas or paper. But this leather painting didn't come out well in the first press's printing. Oglesby thus redid the drawing for the second press – this time not on leather – and also added some modifications.
Tim of DoubleXCross describes some of the differences : The skinhead in the upper left hand corner in the white t shirt went from wearing a plain white t shirt on the first pressing, to a white t shirt with some sort of pocket logo on the second press. The dude standing on stage wearing the UC shirt on the first press goes to wearing a shirt with an X on the front pocket area for the second press.




Image back cover Faith from fracturedseconds.blogspot.com, back covers UC from recordnerd.wordpress.com

The back cover was also changed from the first press to the second (above middle and right). The first press version is an homage to the Faith's "Subject to Change" back cover (above on the left). It is basically a blatant copy. In the second press, however, the single photo was exchanged by photos of each band member (above, right).
The second phase of Oglesby's hardcore artwork could be called the photorealistic black and white phase that played out in the late 1980s right after Oglesby majored at the FIDM in graphics and packaging in 1987. The two main outputs in this phase, both in 1988, are Hard Stance's "Face Reality" and Carry Nation's "Face the Nation." The cover painting of the Hardstance 7″ was inspired by the photo "Selma-to-Montgomery March for Voting Rights in 1965" by James Karales documenting this march and thus the American civil rights movement's peak in 1965.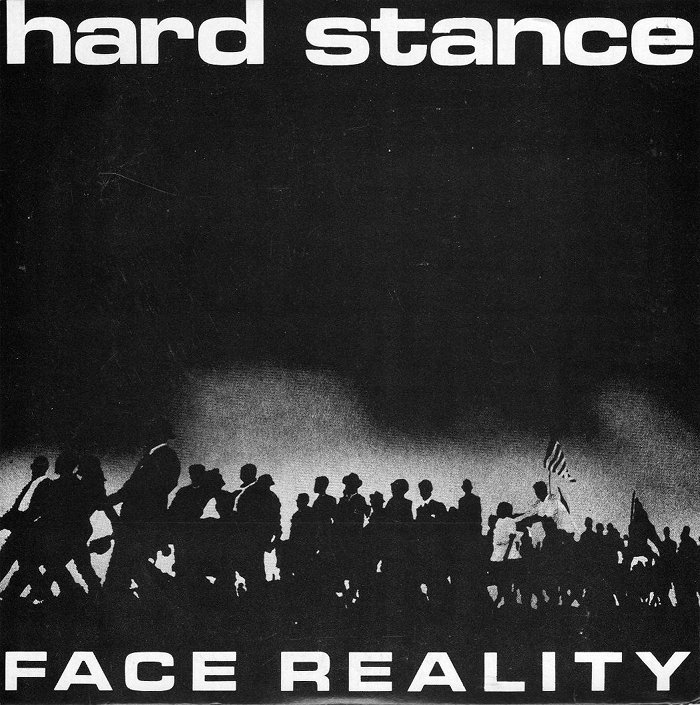 Cover Hardstance from straightonview.blogspot.com, photo "Selma-to-Montgomery March" by James Karales from programminglibrarian.org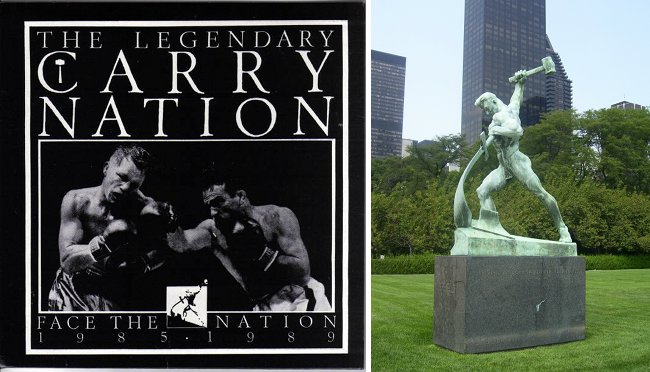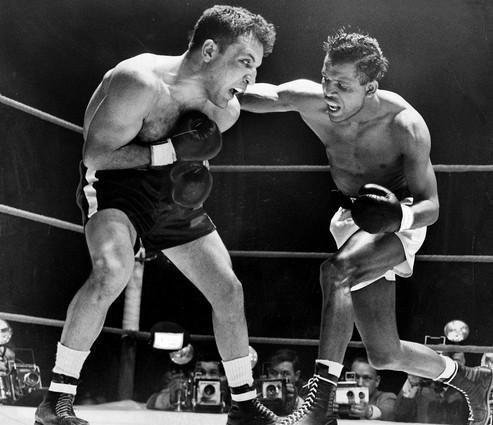 Image cover Carry Nation from discogs.com, photo Plowshores Statue from en.wikipedia.org, photo box fight Sugar Ray Robinson vs Jake Lamotta from thegmanifesto.com
Carry Nation's cover also sports a photorealisitc image in its center. In comparison with a photo of a boxing fight between Sugar Ray-Robinson and Jake LaMotta, it becomes obvious that it is not a reproduction of a photo but that Oglesby painted this cover image. To compare, I choosed a black and white photo of one of the legends of the 1950s American boxing scene sporting the two opponents in classic Everlast boxing gear. Oglesby must have had a similar photo to rely on. This image is embedded in something close to the back cover design of Uniform Choice's "Screaming for Change." While this image rather promotes ritualized violence, the logo of Carry Nation is based on the "Swords into Ploughshare" statues and promotes thus non-violence and peace – these statues show a man that converts military weapons into peaceful tools (an idea stemming from the Book of Isaiah).
Also in 1988, Oglesby did the layout of No For An Answer's "Thought Crusade" together with Dan O'Mahoney, this time with a real photo of the band on the front cover.
The third phase of Oglesby's artwork is defined by colored (oil) paintings and started in the mid-1990s. The Pennywise cover (1991) could be seen as the stepping stone into this phase and Sensefield's "Killed for Less" (1994) as its real beginning. This phase coincides more or less with Oglesby's graduation in 1992 from ArtCenter College of Design in Pasadena where he studied Illustration and Painting. His training in oil painting, with emphasis on 19th century portraiture, shines through here. Since the artwork for Sensefield, Oglesby regularly did artwork for bands until 2000. The covers for Sensefield's "Building" (1996), the one of Palefire (1996) or Drown (1998) are some examples. He also did the logo of Ignite's "Where They Talk" 7″ (1994) during this time.

This period was followed by a break of more than a decade until he took up doing artwork for bands and other music-related projects again in 2012. The Triggerman LP "Learning to Lie", the poster for Revelations Records' 25th anniversary show and the cover for the documentary "Orange County Hardcore Scenester" can be named here. These recent works stay in the vain of the color paintings that Oglesby did before 2000 but some have become much more photorealistic. One could probably speak of a forth phase that Oglesby's hardcore-related artwork is about to enter. Upcoming works will tell.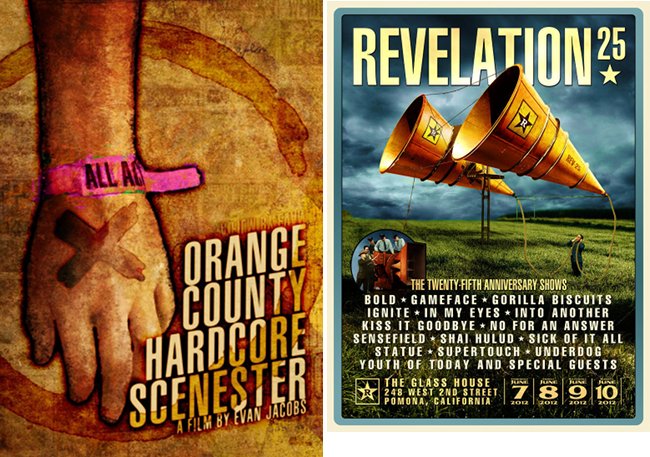 Images from (1)-(4), (6),(8) allmusic.com, (5) revhq.com, (7) doublecrossxx.com, (9) facebook.com/ochardcorescenester, (10) gavinoglesby.deviantart.com